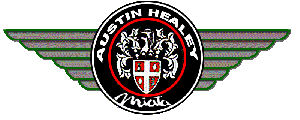 The Mite

Part :58
The Last Little Bits and going for a test drive!
I took a bit of stainless from an old hose clamp and made a nifty little holder for the bonnet prop-rod.
I found an 8 way trailer electrical connector that had 3 wires that were 12 guage (for the low beams, hi beams and headlight ground) and the other 5 wires were for the blinkers and running lights. The connector will allow me to remove the bonnet without cutting the wires. Soon to be grommeted and attached to the inside of the hood.
I put in the dzus tabs on the bonnet sides. These work amazingly well, easy to use and very secure when locked.
Then a few pics in the driveway
The Bonnet UP
From the back. I'll be doing a complete wash and detail and then take some nice pictures with a good background
Then I placed the old laptop in the passenger seat and fired up the engine
And took it for a drive up and down the street, and then a couple of times around the block! No big problems, but a few little bugs to look at: the brake pedal is a bit spongey, they need a good bleeding; and the engine needs a bunch more tuning.